How I found Oneness (or I should say how Oneness found me)
In November 2007 I was on a yoga retreat in Mexico. While I was on the beach I got a phone call which was strange because I had no cell service for those 10 days. It was my friend Mark raving about the "Oneness Blessing". Because of the auspicious way I received the call I knew (thank Grace) to pay attention. (side note~ I did write my "enlightenment" down as my intention for the retreat 😉
A few days after I returned home I received my first Deeksha (blessing) from a Blessing Giver who graciously drove 45 minutes on a Monday night to share the blessing with me. He offered to come and offer the Oneness Blessing to my students at the end of my yoga classes at my studio in New Hope PA. It has been an incredible and rapidly expanding journey ever since.
By the fall of 2008 I was in Fiji to be initiated as a Blessing Giver. This was the greatest journey I had taken thus far on my spiritual path. Yes I had taken many steps but this was a giant leap. These giant leaps have become the new pace of my spiritual growth. In 2009 I went back to Fiji for a Deepening process. I was then invited to India to become a Oneness Trainer in March of 2010. May 2011 I went back to the Oneness University in India for the 28 day Deepening Process. My second Deepening was 2012 (our house burned down after hurricane Sandy when I was on this trip!! That's a whole other story) I started to lead travel groups to the Oneness University as a travel organizer. In February 2014 I was initiated as a Sacred Chamber facilitator. I guess you could say (and they do) that I am a Oneness Ambassador.
Oneness for me is a beautiful path that goes beyond the point of self inquiry and growth.(and there for not really a path but "Miracle Grow" on what you are already doing. It is a process of un-learning leading back to the original starting place, to our true nature. That we are One. "I am That" I have devoted my practice and my purpose to serve and share this Phenomenon with those who are open to the experience (or just curious like me).
In loving service,
Kathy
Experience the Oneness Blessing (Deeksha)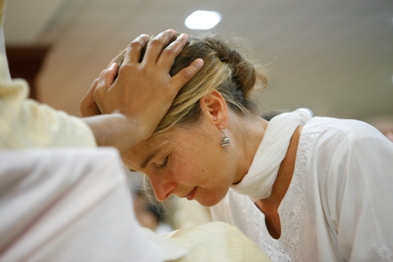 The Oneness Blessing is a non-denominational experience that awakens our connection with the oneness in everything, allowing each of us to deepen our relationship with those we love, with ourselves, with strangers and with our creator.
The Oneness Blessing is also found to help in the healing of the body and in the discharge of repetitive emotional patterns, resulting in greater ease and comfort with oneself. In relationships it enables a greater sensitivity and connectedness with the other, freeing you from the limitations of your judgments and conditioning.Success and prosperity begins with consciousness—a capacity to expand your horizon of thinking and an understanding of the universe around you, the principles governing you.
It has often been said that if you take one step towards God, then God will take a hundred steps towards you. We have so many ways to take a step towards the divine: prayer, meditation, chanting—in fact every kind of spiritual practice in every tradition. The Oneness Blessing is one way that the divine can reach out to mankind; it is a gift, a benediction of grace.
For more information about the phenomenon of the Oneness Blessing go to;
Can anyone receive the benefits of the Oneness Blessing?
Yes. It is not necessary to attend one of the Oneness Courses in order to receive the benefits of the Oneness Blessing. Most adults and children can receive the Oneness Blessing at any time.
Why has the Oneness Blessing come at this time?
Our planet, and all of humanity, is currently undergoing a major evolutionary transformation. This is impacting our environment, our social structures, and our individual and collective consciousness. The co-founders of Oneness, Sri Bhagavan and Sri Amma, are here to help with this transformation.
Why Oneness Blessing?
Opens the doors of consciousness
Awakens Intelligence
Enhances memory retention
Increases ability to learn
Takes you into alpha
Creates better hemispheric synchronization
Brings love to relationships
Heals hurts
Increases listening
Helps experience the other
Awakens compassion
Instills affection
Infuses vitality
Heals the body by healing the mind
Improves metabolic activity
Relaxes the body
Helps build love and appreciation for the body
Invokes auspicious energies
Creates a prosperity consciousness
Removes blocks that hinder success
Makes possible a mental frame for abundance
The Oneness Blessing is not a new religion or set of beliefs, but is a phenomenon in consciousness, which has been revealed to humanity at this critical time in our evolution. The essence of the Oneness phenomenon is that it is the birthright of each and every one of us to live in total and unconditional freedom, in a state where a person is perceiving reality as it is, thereby experiencing the causeless joy, love, and happiness which is the natural condition of the human being. This realization of Oneness, previously reserved for only the most awakened saints and sages, is now available to everyone who has a genuine passion for it.
Testimonials
"The Oneness principle has allowed us each to embody our own religious tradition. They're not trying to change our religious tradition, but rather, are encouraging us to go a little deeper into our own tradition, to find new expressions within"
Douglas Mills, United Methodist Church's Commission on Christian Unity and Religious Concerns
"I felt deep trust, peace and silence in the physical presence of Sri Bhagavan. I have become aware that having concepts and holding onto these concepts itself is creating separation. I see that everything is arising and flowering by itself. I feel deeply connected with nature. Realizing that everything is relationship, I feel more in harmony with my body and I have much gratitude for my body. When conversing with others, I find myself listening to myself, to my own stories. There is space in everything we do, when work is being done, I can remain as a witness and hold a space. When devotees come to the temple and talk about their personal life situations, we can clearly see the cause of their suffering. We ask for Buddha's grace and pray together."
With so much gratitude,
Jeog Kyung, Senior Monk & Abbot, Bonginsa Buddhist Monastery & Temple, Korea
"Oneness brings you back into awareness of your spiritual identity. It gives you value for the self, love for the self, respect for the self and helps you love and value not only the lives of the other people around you, but also nature. It helps you value all forms of life. It doesn't make you change your faith in any way. That's not the intent. Rather you learn a lot about the faith of another and you go deeper into your own faith and explore what's going on in your own understanding. This experience brings greater inner strength."
Sister Jayanti, European Director of the Brahma Kumaris World Spiritual University and member of the World Council of Religious Leaders
"Oneness strengthened my own spirit of unity, respect and brotherhood."
Dr. Imam Khorisani of the Islamic Society of California
I am more open now to feel the universe and the things that surround me. The music I play is not my music. It is the universe's music. It is there. I channel it.
Nahuel Schajris, Two times Grammy Award Winner
"The Oneness blessing is a powerful catalyst to open to your personal relationship to the Divine – whatever that means for you. The consistent joy and ease it brings to your life is exciting and inspiring."
Mariel Hemmingway-Crisman, Actress
"We have been privileged to experience the Oneness Blessings and teachings of 'Oneness', which have enhanced our understanding of what it is to be united with all. We have always been on a spiritual path and the Oneness Blessings and teachings have heightened that experience. We are truly grateful"
Hugh Jackman & Deborah-Lee Jackman, Actors
"Oneness has given me a new awareness of what it is to be human, to see myself & experience love. The Oneness Blessing has been the single most profound and positive life changing event in my life. I now have a deep sense of direction, a sacred connection to the divine that guides my work, my music and my family." Rick Allen, Musician, 'Def Leppard'
"Oneness gives us life's ultimate gift, an opportunity for deeper and richer relationships, with those we love, our creator, and even ourselves" Anthony & Sage Robbins